Many Australian subfloor building structures consist of either a brick or timber stump construction and deterioration occurs during their lifespan. We offer expert replacement of both types using only the highest quality materials, skilled labor and state of the art machinery.
Your home is probably your biggest investment. It needs to be taken care of properly and by the best hands. Here at Geobuilt, we offer restumping services to prolong the life of your home by reinforcing the foundation.
Over the years, you might notice your structure developing signs of wear and tear in the foundation like crack on the walls. Such signs should be addressed and fixed immediately by a capable and experienced restumping service to prevent further damage.
What We Offer
Geobuilt will take care of all the aspects involved in renewing and rejuvenating the foundation of your home. Our restumping service will include;
Helping you chose the right type of stump for the structure
Assessing the number of stumps that will be used and the spacing required between them
Assessing the paperwork required for the project like council building permits
We will ensure all the restumping is completed according to building regulations.
We will monitor our work
The process of restumping is technical and we understand that most homeowners might not understand what is involved. We take it upon ourselves to help you make the right decisions for your home by offering support and technical advice.
We will help you ascertain the level to which the floors will be brought back and we guarantee the proper re-leveling of the floors using a dumpy level for the best results and the most accurate readings.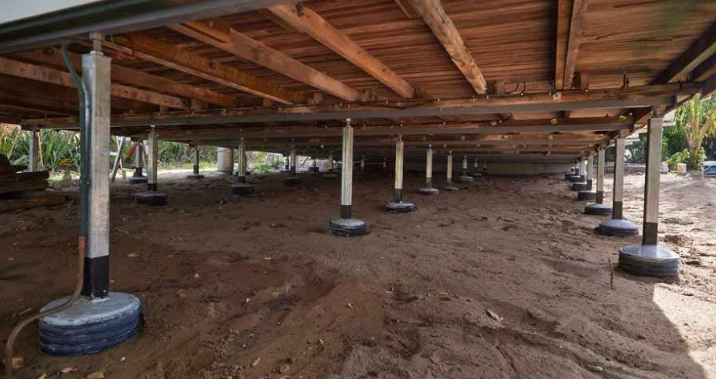 Why Geotech Built?
Qualified and experienced
Geotech Built is a licensed builder and a member of the Master Builder Association and the Housing Industry Association (HIA). With us, you and your house will be the safest and most skillful hands. We have a highly experienced team of builders and to make sure our clients are assured of quality and diligence on our restumping service, we offer full insurance and liabilities for the completed work.
We are specialists in foundations
We have over 30 years of experience in offering permanent solutions to your foundation troubles. Our innovative approach to restumping has been used by thousands of happy and satisfied customers across Sydney.
Thorough testing and inspection
We take our work and your house very seriously. Our team will thoroughly inspect your home and offer you a fixed building agreement for the restumping. After we complete the work, we check and verify everything to make sure everything is in place and has been done correctly. We are a builder you can trust with your home.
When it comes to your home, you cannot take any chances. You need to work with a builder who is skillful, innovative, diligent, registered and licensed, and experience. At Geotech Built, we share the same passion you have for your home and we guarantee the best results backed by the proper insurance and liabilities. Our team of experts will walk you through the process and help you make all the important decision by providing advice and support.
Get in touch with us today for an assessment of your home's foundation and let us help you safeguard your most important investment and prolong its life.