Underpinning is an essential process used to strengthen and stabilise the foundation of your home. Underpinning is also considered when the homeowner is looking to increase the size of the basement in which case the process is referred to as basement lowering.
No matter the reason for considering underpinning, finding the most qualified contractor should be a top priority. The process is complex and touches on the most vital part of your home which is the foundation. At Geotech Built, we have decades of experience in Wollongong underpinning and thousands of happy clients who can attest to our skill and excellent service.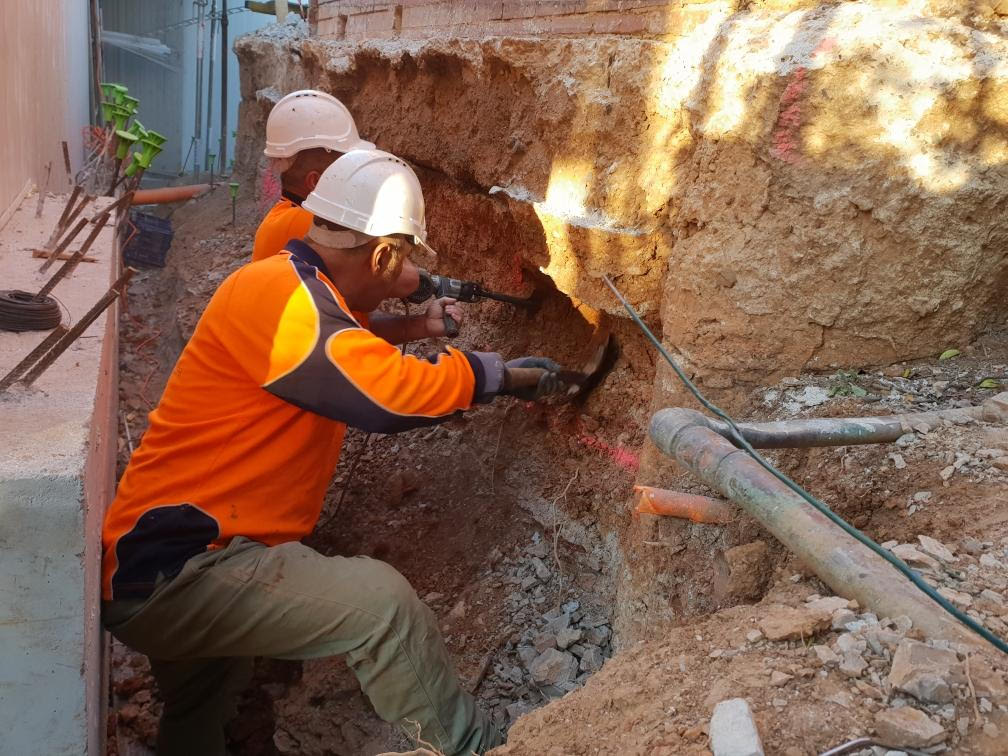 Geotech Built, demolition and installed 21 steel piers in our Sydney home. Explained the entire process from start to finish. Very reliable and work done efficiently. Highly recommended.
~Tracey Choice
Great job by geotechbuilt, our home in Sydney, was long overdue for re-stumping and leveling. The entire process ran smoothly, from the initial quoting to the clean up. The attention to detail and care taken was second to none. I would not hesitate to recommend this business
~Ethan Utley
The work was done efficiently and they did a great job with the clean up afterwards. Highly recommended
~Edwin Conklin
How is Underpinning Done?
We don't believe in having a one-size-fits-all kind of approach when offering any construction services. We believe each situation is unique and requires a unique approach. We use different methods when underpinning each of which is unique to the type of damage and the project.
Mass concrete method
We dig pits along the exterior wall of the building at intervals and depth which we determine but below the existing foundation. Before filling the pits with concrete, we examine the foundation for any potential problems. The mass concrete method is perfect for homes built on shallow ground.
Base and Beam underpinning
Like the Mass concrete process, we dig pits on the outer walls but instead of concrete, we drop steel frameworks into the pits and fill them with concrete. This process is perfect for buildings that require additional stories or a change in structural usage. It's applicable for both shallow and deep foundations.
Pile and Beam Underpinning
We dig a hole below ground and through the existing wall of the foundation. We connect the piles to each other and to the needle beam running through the wall to improve support. Finally, we add concrete to fill gaps and add support to the beam. This method is perfect when transferring the load from the original foundation to a more stable and reinforced one.
We are a diligent builder who is concerned about your safety, the safety of our experts and your property. We always assess the risks involved with the project and prepare as much as possible for any eventuality.
We ensure all our underpinning services are done according to regulation and safety requirements. We always ensure;
We thoroughly inspect the foundation and other parts of the house before we begin excavating
We evaluate the type of soil and the depth of the foundation before we decide on which method of underpinning is best suited for your home
We conduct a general ground assessment and inspect the pits for signs of instability
Before, during and after the process of underpinning, we enforce the health and safety policies put in place as required by the building code
All our building and inspection teams are highly qualified personnel with comprehensive training to tackle any situation and provide the best results